At least five security guards reported killed in heavy fighting after gunmen penetrated security cordon of Pakistan's busiest airport
Militants armed with guns and grenades launched a brazen attack on the civilian airport serving Pakistan's business capital late on Sunday night in one of the most high-profile attacks in the city for years.
Police said up to ten men attacked Jinnah International Airport in Karachi shortly before midnight, entering near to a small terminal used for VIPs and pilgrims travelling to Mecca.
Incoming flights were diverted to other airports as gunfire and explosions rocked the area, sending thick clouds of smoke billowing into the sky.
An hour after the attack began, an official said at least five people had been killed, the bodies recovered and brought to hospital.
Troops from the Pakistani army rushed to the scene, joining police who were also attempting to fight the attackers. The army later took control of the operation.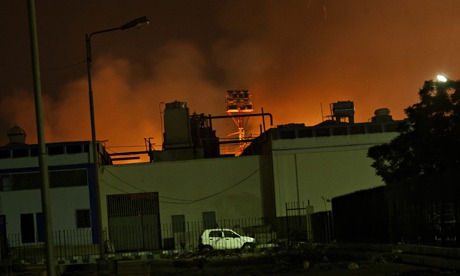 Fire illuminate the sky above Jinnah International Airport in Karachi. Photograph: Shakil Adil/AP
The smoke suggested terminal buildings or aircraft on the ground had been damaged in the attack, and some television pictures showed a fire blazing perilously close to commercial airliners.
Although Karachi – a perennially troubled city of 20 million people – is used to regular bouts of violence, the attack on its airport was one of the most serious attacks since a team of militants stormed a naval airbase in the city in 2011, killing military personnel and destroying two aircraft.
Even as the attack unfurled many Pakistanis took to social media to express anger and incredulity at the massive security breach at an airport serving one of the world's largest cities.
The outer perimeter of the airport is guarded by security forces armed with dowsing rods similar to the fake bomb detectors sold around the world by British conman Jim McCormick who was jailed for fraud last year.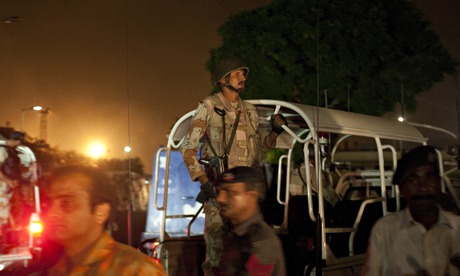 Pakistani security troops rush to Jinnah International Airport in Karachi. Photograph: Shakil Adil/AP
Pakistan's Dawn News reported that the attackers are believed to have forged identity cards used by the Airport Security Force (ASF) to enter the area.
The attack is likely to sharpen the longstanding controversy of how the country should tackle the Pakistani Taliban and other militant groups who launch attacks inside Pakistan.
Since it took power one year ago the government of Prime Minister Nawaz Sharif has attempted to open peace talks with the Pakistani Taliban, ignoring critics who believe violent militants have to be brought under control by force.
A major faction of the Pakistani Taliban last month announced it had split from the militant outfit following bloody clashes with a rival group since March.